If you have been following my blog you know how much I love cool tools of the trade and the Yarn Buddy has climbed to the top of my mush have list for any knitter and crocheter.

Top Left Walnut, Top Right Purple Heart
Bottom Left Lepoard Wood, Bottom Right Walnut
(Photo Credit Mrs Kim Overstreet)
These beautiful works of art are made by a wonderful couple from my town. The creative minds behind
Timber Wolf Wood Crafts
are Mr Tim and Mrs Kim Overstreet. Mrs Kim is a very talented knitter and her husband is a magician when it comes to woods. Together they create true works of art in their garage.
Timber Wolf Wood Crafts has beautiful handmade every day use items in their shop. If you are looking for a unique gift for a gift then you have come to the right place. They create things such as pens, compact mirrors, candle holders, wine stoppers, key chains, razors, Yarn Bowls, Nostepinne (ball winders) and my favorite the Yarn Buddy.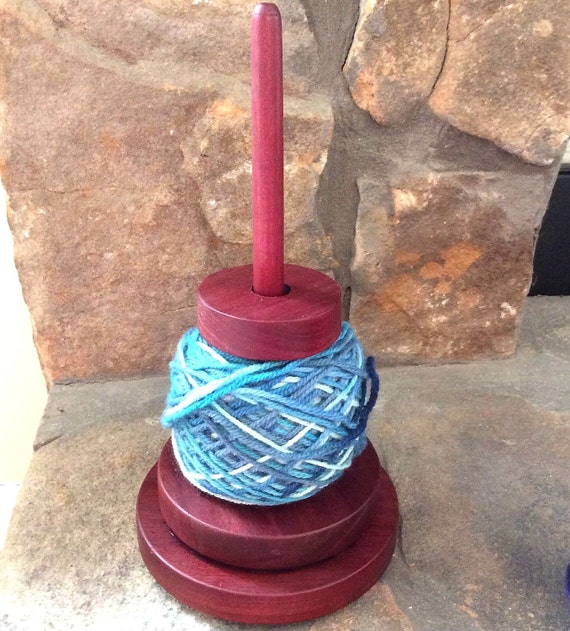 Yarn Buddy In Purple Heart Wood on the Timber Wolf Wood Crafts Etsy Store
Timber Wolf Wood Crafts use the most beautiful woods. Some of the wood they have on hand for the Yarn Buddy is flamed maple, walnut,
Purple Heart already made
, Paduk, cherry wood, tiger wood and Leopard Wood! That is a lot of choices but it does not even stop there. Mr Mike is happy to do custom orders have a favorite wood not listed? Contact the shop... How about a tree in your yard that had to be cut down and you just have that attachment to it. Maybe your kids grew up playing under it or you spent ever evening under it with a loved one then contact Mr Mike or Mrs Kim. They are truly wonderful people offering an amazing product that can be cherished and past down for years to come.
I keep referring the older style as Tiger Wood it is in Fact Walnut. It is 100% Stunning and that is what I have ordered. I Also did Check and the Shafts will vary. I really hope you contact and place a order because you will not be disappointed. Look for future news on this shop in a few weeks here on the blog.
The Yarn Buddy is not only gorgeous to look at but is very functional. You slide the yarn cake down the shaft and place the cake topper on top of the cake. As you knit/crochet and pull your yarn the yarn buddy turns allowing for a even tension and keeping your yarn from rolling off or being attacked from your furry friend. This gentle rotation will make knitting and crocheting even more relaxing and help you complete your projects faster! The Yarn Buddy's I am testing out are made from a very pretty Leopard Wood and Tiger Wood. I am testing them out with a wound cake of fingering weight BFL blend and even a skein of Hobby Lobby's I love this yarn. The are two types of mechanism for the Yarn Buddy. The older style uses a mechanism that adds slight tension to keep from getting back spin on your yarn as it turns but it makes a very faint noise as it turns. (To me the best way to describe the sound is when you go to the beach and get a little sand on the wheels of your luggage or cooler...somewhat of a grit sound.) However let me state that it is not at all a terrible sound. In fact I know many knitters and crochets that love little sounds and often buy bell stitch markers or love the sound of their needles as they work the yarn. The new style like the Leopard Wood one I am testing has a newer mechanism that produces no sound and a smooth flow. The back spin is not really noticeable it just spins more fluently than the older style. The newer mechanism does cost a little more so that will be reflected in the prices but both price points are priced perfectly and fit any budget.
To get your yarn ready for the yarn buddy you can just slide the skein like Hobby Lobby's I love this Yarn straight down the shaft pulling from the outside of the ball. As you can see from the picture on the left The whole skeins fits. It does not hold the cake topper but I have not had any issues what so ever with it getting caught on anything. I love making Stuffies with skeins like this but hate pulling from the center because as I crochet the skein collapses on itself causing a tangled mess. The Yarn Buddy completely solves that problem I can pull from the out side of the skein and do not have to turn the skein and worry about the tension on the yarn.
Now lets look at how to get your hanks onto the Yarn Buddy. You can slide the cake down the shaft and add the Cake Topper like I have done in the photo bellow or you could pick up one of
Timber Wolf Woods Crafts
Nostepinnes and hand wind your own cakes then slide it straight from the Nostepinne to the shaft of the Yarn Buddy. Just think you can have matching Yarn Buddy and Nostepinne or if you are having a hard time deciding on a wood get the Yarn Buddy and the Nostepinne in the other. These together would be amazing in a basket for a gift especially since when this post goes up there will only be 20 Fridays till Christmas!
If you want to really make that Basket of tools for your Yarn lover stand out consider adding one of these yarn bowls. Look at that wood. It is stunning....
Please don not forget to head over to the
Timber Wolf Wood Crafts Etsy Shop by clicking here
and look at their amazing products and support a great small town family!
(I am in no way being paid for my review of Timber Wolf Wood Crafts in any way. Actually I love the Yarn Buddy so much I am buying one for myself. I am having a hard time deciding on the Tiger Wood or the Purple Heart Wood... but I have decided to order a Walnut.