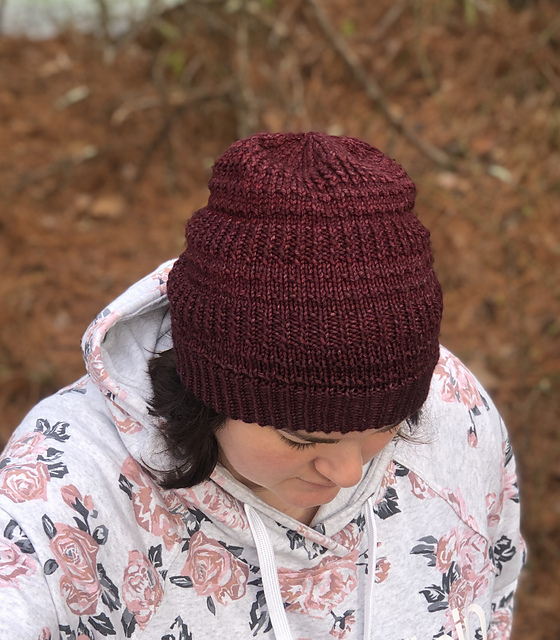 Timber Bay Hat you can find the pattern here: https://www.ravelry.com/patterns/library/timber-bay
If you are a knitter then you really should look over the wonderful designs from Dandilion Girl Designs. Melissa is the creative mind behind Dandilion and man that women can make some stunning things. Her first pattern to hit Ravelry was some cute leg warmers in 2009. Since then she gotten a total of 188 designs on her Ravelry pattern page that can be seen by clicking the graphic bellow of her design name.
I can not remember who brought me to her designs but I do remember which one it was. I was looking for a cute cardi to add to my one day make queue and came across the
Chateau
. I admit when I went to grab the link for this post I noticed it was not actually in my queue anymore but quickly fixed that. Chateau is the bulky cardi with wide sleeves and this amazing cable down the back. While writing this it just hit me where I heard about it. It was from Stacie from Must Stash Yarns. It was on the podcast with her and Super Steph ... man I loved their podcast. Stacie made it in a red color, I can not remember the yarn brand she used. It wasn't hers though. This may have even been before she began dying yarn. I am going to look up and link her project
here
.
I actually own a few of Melissa's designs and just recently bought and cast on the Timber Bay hat. The Timber Bay hat is a very easy and fast knit. I only worked on it about 30 mins or so a day and finished it in less than a few days. I have no doubt it would easily be done in a day or so. The hat has been made 766 times including mine and some chose to make theirs short by omitting the last repeat of a section but I choose to do the complete hat just as the pattern is written. I love the way it turned out. I could see me making this again for a gift because of the finished product and not a lot of work that has to go into it.
She does have 6 free patterns on Ravelry and those can be found
here
. The hat on the left is one of her free patterns. You can straight to the pattern by clicking the photo. It is an adorable cabled hat. I highly recommend trying out one of her paid for patterns but a free pattern is a great way to "try" a designer out. I am almost positive once you try one of her patterns you will see she writes them so they are easy to follow and explains things well.
For my hat (
Timber Bay
) I followed the pattern exactly as it was written, I did not omit the last repeat of Fisherma's rib like many suggested. I even used the recommended needle sizes. I used Malabrigo Rios and had 9 grams left from the project. I know many were worried reading over the project notes that they would run out of yarn which is what lead them to omit the last repeat. As I completed the hat I made notes of the amount of yarn I had left. Before starting the last Fisherman's rib I had 24 grams of yarn left and before starting the crown decreases I had 17 grams left.